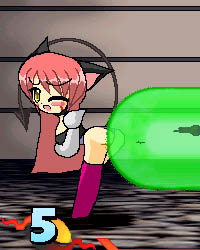 Megaira
Megaira Belphegor is a diver with high damage and agility, but low hit points. She is most notable for being the highest damaging non-boss character in the game, and is one of the few characters that has some relation to the original Ura version, as originally one could play as her sister, Arekuto. However, Arekuto was utterly imbalanced, so as a result, Megaira was put in her place and cover up story was deployed.
She is ranked as the 3rd best character in competetive play due to her high agility and damage output.
Stats
Moves
Ad blocker interference detected!
Wikia is a free-to-use site that makes money from advertising. We have a modified experience for viewers using ad blockers

Wikia is not accessible if you've made further modifications. Remove the custom ad blocker rule(s) and the page will load as expected.